Gold Coast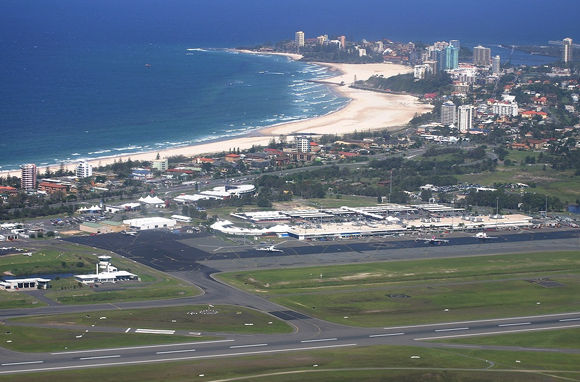 Gold Coast Airport (YBCG/OOL) serves the tourist mecca of the Gold Coast/Surfers Paradise area. It is one of the fastest growing airports in the Oceania region, with passenger numbers close to tripling over the last decade.
All necessary charts for Gold Coast can be found in the Airservices DAP.
Pilots should be aware that the default FS scenery does not contain the taxiway at the extreme southern end of runway 14/32: taxiway C terminates in what is indicated as taxiway K on the current airport charts.
Arrivals
If runway 14 is active, pilots can expect the GREAV SEVEN (GREAV7) arrival.
When runway 32 is active, there are no STAR arrivals for flights arriving from New Zealand. Pilots should expect radar vectors to the RNAV, VOR/DME, or visual approach.
Note: there is no ILS approach at Gold Coast. Pilots should expect an RNAV approach, or by request one of the VOR/DME, NDB, or visual approaches.
Departures
Pilots departing for New Zealand should expect the GOLD COAST THREE (CG3) radar departure, with vectors to the filed route.