Cross the Ditch 13
Summer 2016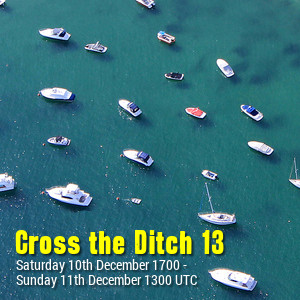 It's December and summer once again in the Southern Hemisphere...
Thousands will take to the waters of Australasia's harbour cities...
But we're taking to the skies; it's time to Cross the Ditch!
Featured for Cross the Ditch 13
Improved Wave Format

We're adopting the Wave Format for our thirteenth event. This unique and popular approach sees the event divided into five waves where the event route changes every few hours zig-zagging back and forth across the Tasman to create six mini-flyins.

The route you fly is determined by the time you wish to depart; the routes are designed to highlight some of the fantastic scenery in this part of the world, and to create as much crossing traffic as possible. ATC will be assigned according to the schedule to ensure great coverage throughout each flight.

This year the Wave timings have been tweaked to allow for the prevailing westerlies that see the even-numbered waves take up to an hour less to complete than their odd-numbered counterparts. The starts of waves 3 and 5 now overlap the end of the previous one making it much easier to fly multiple legs and stay on schedule: completing all five legs is now even more of possibility!

Returning Favourite Airports: Rotorua and Brisbane

Both Rotorua (NZRO/ROT) and Brisbane (YBBN/BNE) are fan favourites from previous events, but we haven't visited either in several years. Both have their own special qualities that make them unique: Rotorua - in New Zealand's most active geothermal area - has a displaced approach to runway 36, requiring a turn in the final moments before landing; Brisbane is a major international hub, despite being too often overshadowed by Sydney and Melbourne to the south.

Rotorua Large Aircraft Alternate: Auckland (NZAA/AKL)

The runway length at NZRO is 1600m/5250ft, and there is limited parking space (particularly in the default FS sceneries): aircraft larger than B737/A320 are not suitable for use at this airport.

A skeleton crew will be staffing Auckland (NZAA) as an alternative to Rotorua for pilots wishing to operate larger aircraft during Waves 2 & 3.

Note: where possible, pilots are strongly encouraged to select an appropriate aircraft and fly the Rotorua route as this will be the primary focus of ATC activity.
What's it all about?
For twenty hours this December, the skies over the Tasman Sea between Australia and New Zealand will be filled with aircraft all on a mission to Cross the Ditch.
An example of that typical down-under understatement, this "ditch" is over 1100nm wide. The flight routes all range from two to three and a half hours flight time.
Throughout the event, the Oceania region's two divisions will be providing full gate-to-gate ATC coverage, in the Southern Hemisphere's premiere oceanic event.
This is a great opportunity to experience Oceanic flying without the need to commit to an eight-hour flight!
If you're new to Oceanic Flying, our reporting tool makes taking part a breeze.
Event Times
This twenty hour event is timed to allow pilots from all over the world to join the fun:
UTC: Saturday 10th December 2016 17:00 - Sunday 11th December 2016 13:00
AEDT: Sunday 11th December 2016 04:00 - Monday 12th December 2016 00:00
NZDT: Sunday 11th December 2016 06:00 - Monday 12th December 2016 02:00
Waves
This season's event is organised in waves. Each airport will have a three-to-four hour departure window, during which time flights will be able to leave for the next destination. As the window closes, the departure window will open at the next destination.
Given each of the flights is 2.5 - 3.5hrs in length, the previous wave's flights will be arriving at the same airport as the next wave departs, maximising the amount of traffic at each airport.
NOTE: in order to ensure that you have ATC coverage throughout your flight, you MUST fly the wave route that is active at the time of your departure.
The individual routes are designed to ensure as much opposing traffic enroute as possible.
Each flight passes from one Oceania division to the other, and the result is six mini-flyins over the course of twenty hours!
The Waves for Cross the Ditch 13 - Summer 2016 are:
Wave
Flight
Departure Window
UTC
AEDT
NZDT
1
Christchurch (NZCH) to Melbourne (YMML)
1700-1930
0400-0630
0600-0830
2
Melbourne (YMML) to Rotorua (NZRO)
(B737/A320 and smaller)
1930-2330
0630-1030
0830-1230
2a
Melbourne (YMML) to Auckland (NZAA)
(Large aircraft only)
1930-2330
0630-1030
0830-1230
3
Rotorua (NZRO) to Brisbane (YBBN)
(B737/A320 and smaller)
2300-0300
1000-1400
1200-1600
3a
Auckland (NZAA) to Brisbane (YBBN)
(Large aircraft only)
2300-0300
1000-1400
1200-1600
4
Brisbane (YBBN) to Wellington (NZWN)
0300-0700
1400-1800
1600-2000
5
Wellington (NZWN) to Sydney (YSSY)
0600-1000
1700-2100
1900-2300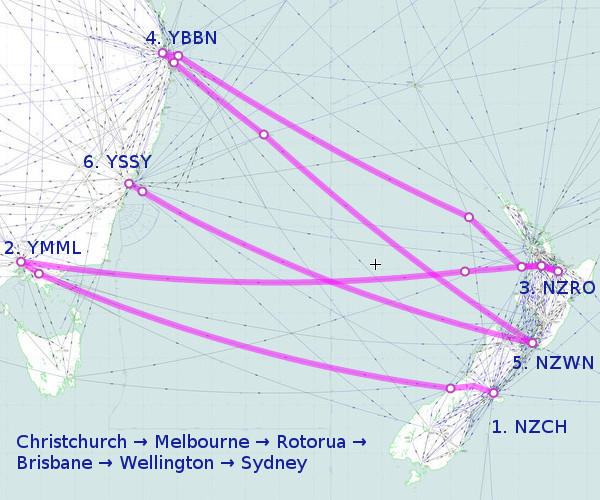 Calling all Pilots and Controllers
Flight plans are available from the Flight Plans section.
Book your flights now from the Flight Bookings page. Bookings made on this site help us plan for the event, and will also show up in vroute.
Controllers wanting to get in on the action can also apply now at the event's ATC Applications page.